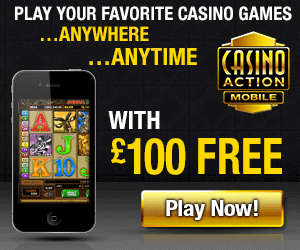 The emergence of mobile casinos over the last few years has been greeted with wide applause by gamblers all over the world. Mobile is rapidly becoming the platform to do all kinds of online functions, and it will only continue to grow. Most good quality online casinos will offer you some kind of a sign up bonus, it is an incentive for you to sign up to their site. You will now find mobile casino bonuses readily available too, from some of the best mobile casinos.
The mobile casino bonuses available will vary from one mobile casino to another. Also, many of them will work on a match play concept, so you will need to make a deposit yourself first, and then the casino will match your deposit (this will be capped at an amount set by the casino). Not all sign up bonuses work this way, so you will find some variations, but this is the most common type of welcome bonus issued to new players.
The structure of mobile casino bonuses
Some mobile casinos will offer you a sign up bonus that is structured over different levels. This is to encourage you to stay and play more at their casino, but you will be rewarded for doing this over a longer period of time. This can be a great way for you to come in and try a lot of the games out that they have available, and also to get a feel for the casino itself and to get an understanding of how easy it is to navigate and operate.
If we take a look at the sign up bonus for Luxury Casino Mobile, which is one of the most popular mobile casinos currently available, you will get an idea of how some of the mobile casino bonuses are offered and structured:
1st Deposit – 100% bonus up to £/€/$150
2nd Deposit – 50% bonus up to £/€/$200
3rd Deposit – 25% bonus up to £/€/$300
4th Deposit – 50% bonus up to £/€/$200
5th Deposit – 100% bonus up to £/€/$150
This is a typical sign up bonus structure for a mobile casino. As mentioned, you will find variations, but you will see this format a lot with some of the larger mobile casinos. It works well for both the casino and the player. For you as the player, you will have more chance to keep getting the casino to add bonus money to your account, so you can play for longer on their money. For the casino, they will keep you in their playing for longer, so it is a win-win situation for both parties.
Using the mobile casinos
Some of the biggest mobile casinos, such as Casino Action, have really made it very easy for you to come in and view all of the games very easily. They are not complicated at all, so as soon as you sign in to the casino you will be able to see all of the games and various features right away. The last thing they want to do is to scare players off because the site is too complicated to use, so you will like just how easy casinos such as Casino Action Mobile and Luxury Casino Mobile are to use.
When you join one of these more established mobile casinos, you will also get access to friendly and helpful 24/7 support. You will also have a few different options when it comes to the languages you want to use in the casino, and the currency you want to use also. They are set up to welcome players from most parts of the world, so there are a lot of countries that are able to use these casinos.
So you do have quite a good selection of mobile casinos to join, and start using their sites and game selection. Look at the different mobile casino bonuses on offer and you can start playing at any of the ones you like immediately. You can sign up to any of these established mobile casinos and start using their bonus offers now:
Sign up to these sites and start using their mobile casino bonuses right away. Click on the banners below and you will be taken to the sites where you can find out more about the bonuses and sign up to the ones you like: